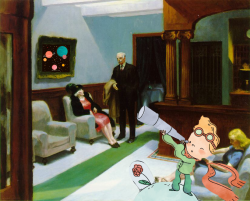 A JOURNEY WITH THE BODY AND IMAGINATION
Description
Our journey starts from the hotel lobby of the famous artist Edward Hopper, a painting that, at first glance, leaves us with some doubts and, let's face it, even a little sadness.  
But we want to look beyond! It is here that a nice character shows up and will guide us on our path. Who is he? The Little Prince - who else ?! He will lead us to both imaginary and real places, to teach us that, thanks to digital tools, there are no limits. Now we can find ourselves in Wonderland and in five minutes in front of the great Chinese Wall! 
This project addresses to primary school children, starting from the 3rd grade.  

Author (s)
Rossella Fagnocchi
Martina Landroni
Letizia Marcheggiani
Sara Passarelli
Virginia Ragni
Link to presentation video